Ciao a tutti!
It has been too long my loving reader. I swear, every time I tell myself that I'm going to write more, I always find myself in the midst of a Mafia style shootout. Ma che si puó fare? (What can you do?) This is my favorite Italian phrase, because it is applicable in any possible situation. If the train breaks down, che si puó fare? If the museum is closed, che si puó fare? If the Pope refuses to give you a high five on the grounds that if he were to give you a high five, he would have to kill you, che si puó fare? It truly is an all encompassing phrase.
These past couple weeks have been packed with activity as usual. A few weeks ago, I ended up at the Legionaries of Christ school to meet with some brothers for adoration and Belgian beer. It's a somewhat long and random story, but essentially, Brother Felix told us that the Belgian beer that we had revered was utter crap, and decided to introduce us to the real stuff. The funny thing is that I have a friend whom I haven't seen in 9 years, and it turns out that he was staying at the same school. I surprised him there and shared beer and cheese with a completely eclectic group. The strangest part of it all though was afterwards, we were trying to catch our train, but the door to the train station was locked. So Brother Felix helped us jump the fence, and make our train. I have to say that it's only the second time that a man of God has helped me break the law.
For the weekend, King Blarken and I took a train to Firenze (or for historocentric Americans, Florence), and spent the weekend soaking up the birthplace of the Renaissance. Da Vinci, Michaelangelo, Donatello and Macchiavelli were all born there in a 100 year period. Not only was the Renaissance born there, but also, there lies the fertile inceptive spawning grounds of the most Leviathan calzone that mankind has ever produced. Truly, it is of biblical proportions. Let's just say it owned me. I haven't felt that sick since I challenged the king of the giants to a drinking contest, and he handed me a large stein. I begin to drank heartily, but, unbeknownst to me, the other end of the glass was furtively connected to the sea. Malignant giants! Oh how I yearn
to see the fateful morn on Ragnarok when I shall cleave your head from your body with ease, and triumphantly watch as warm life ebbs from your bones! Oh wait...no that was Thor...nevermind. Anyways, the artistic apex was seeing Michaelangelo's David. David is one of those works of art that you see depicted countless times, but then when you finally see it, you say, "Huh...that is pretty good." The sculpture stands on a 4 ft. platform, and David himself is at least another 15 ft. tall. It is the most masculine figure I have ever seen. The museum also held the Quattro Prigione (the four prisoners), which embody Michaelangelo's ideal of freeing the man from the stone. They were originally intended to stand in Julius II's excessively ornate tomb, but because of complications, were left unfinished. I personally think they're breathtaking. They truly seem as if they're desperately writhing to break free from the s
tone prison, but are eternally doomed to fail. There's a very interesting human allegory there. Also, one of the most famous galleries in the world is in Florence, The Uffizi. The height of the Uffizi is definitely Botticelli's "Birth of Venus." It's another painting that can only be appreciated up close. He does a remarkable job capturing motion.
Beyond the two major
art museums, there are also some really interesting sights, one of which is the Church of San Marco where over 40 Fra Angelico frescoes are held. Fresco is an Italian word short for affresco, which mean "on the fresh." A fresco is done on a specific type of plaster that only allows the artist to work for about 14 hours. Once the paint dries, the artist can't make any changes. If he does, he has to destroy the work and start over. There are several famous frescoes, but the most famous is his Annunciation. Seeing all the paintin
gs is almost like a religious experience, because each fresco is in its own cove, and you walk through seeing them one by one. Also, several great Florentines are buried in Florence (go figure). There is a church where Michaelangelo, Galileo and Machiavelli are buried. Galileo's burial in a church is strange, but Machiavelli's is even stranger. Neither were on good terms with the Church. Machiavelli hated the Church, and the Church put Galileo under house arrest for heresy. Still, seeing the burial spot of sinister Machiavelli is pretty cool.
This past weekend, Byake and I were going to travel to Münich, but after a few unforeseen complications that came in the form of us going to the wrong airport, we ha
d to improvise our plans. Because I already had a flight home, I decided to continue to Münich via train, but Byake opted against it, and woe is he now for doing so, because Münich was incredible. I met with a friend from Firenze, and because there is nothing to do in Münich, we held 24 hour prayer vigils with the locals...right. The famous (or infamous) Hofbräuhaus is in Münich, the most famous beer hall in the world. In the hall there are long wooden tables, filled with rambunctious Germans as far as the eye can see. You have to find a table and hope the Germans let you sit with them. There is a band in the middle that plays traditiona
l oompa music, and all these old men (and slightly intoxicated) in lederhosen dance in the middle of the hall. The first night, we ate with three German guys who barely spoke any English. H
owever, we quickly found that the only necessary German is "Prost," which means cheers. We were finally able to get some good meat too. They don't serve you pints of beer at the Hofbräuhaus, they serve you liters. And the Germans drink like mad. The guy next to me was on his 8th liter of beer! DO YOU UNDERSTAND HOW MUCH ALCOHOL THAT IS?!? We even broke a stein because they were such voracio
us prosters.
Anyways, we had so much fun the first night that we decided to come back again, and this time my friend and I were the sole Americans at the table. We met some more German guys, and some Bavarian girls who were dressed up in tradition Oompa Bavarian outfits. It was great. And even the petite women are bottomless beer pits. I think Germans have second stomachs...or livers...
The second two days of my trip were m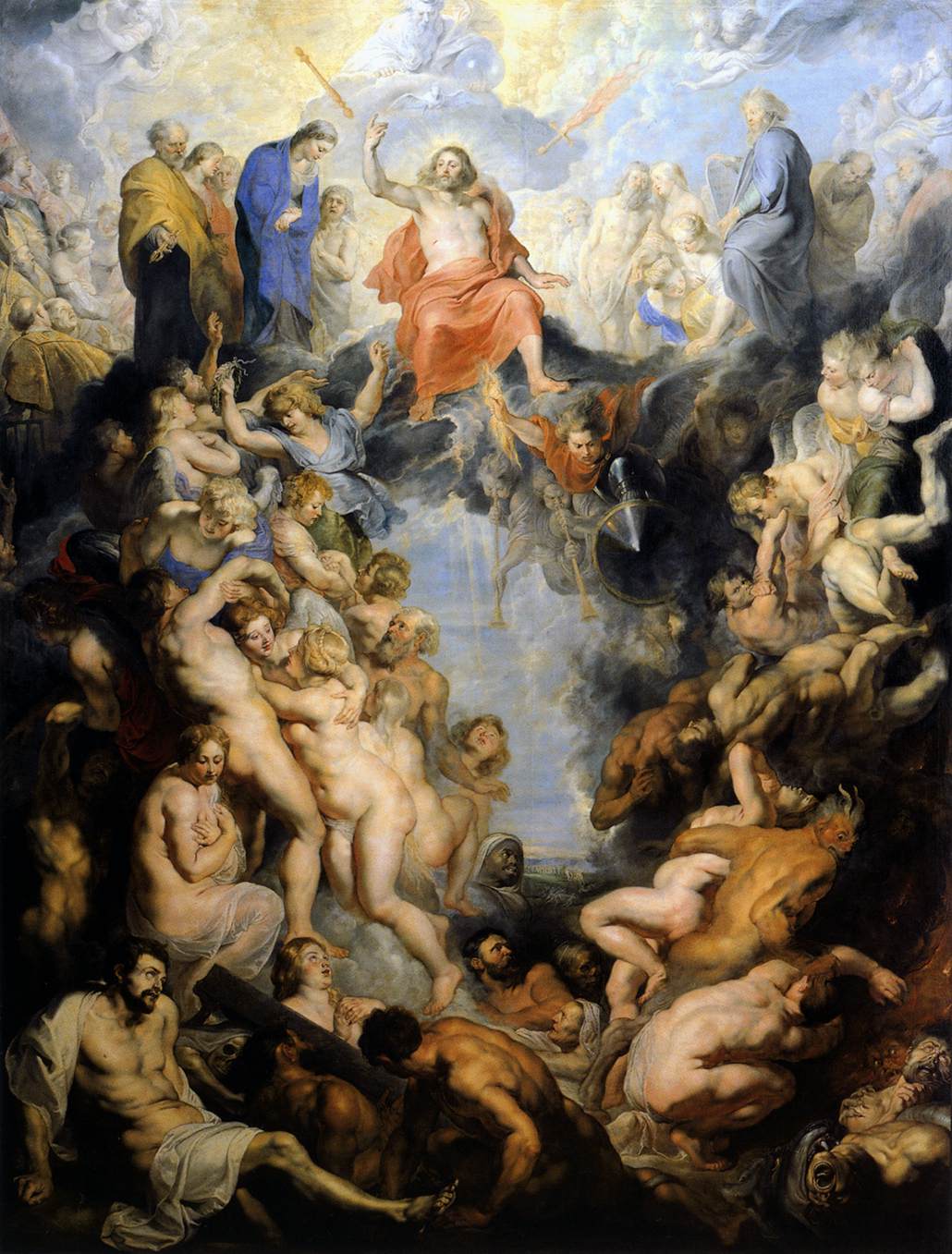 uch more relaxed. Joe went home for class, and me, being the devoted and assiduous student that I am, decided that my education would be much better served studying at the fount of experiential wisdom, rather being inundated with crack-fueled philosophical arguments from Schopenhauer and Kant. Bloody categorical imperative... The first day, I saw all that Münich had to offer, which included two surprisingly eminent museums. They had several Raphael's, Da Vinci, Monet, Degas, Caspar David Friedrich, and a lot of Rubens. I used to despise
Rubens, because I thought he was famous only for painting fat people. But now I see I was wrong. His paintings are remarkably dramatic, with
rippling, muscular figures contorted in the strangest fashion. There was a very shocking painting of judgment day. He captures drama extremely well. Münich is also home to several magnificent churches, but no more magnificent than any other European town. The Marienplatz was is interesting because of its architecture. It still is an operating federal building. Also, the Englischer Gartens, most famous for their beer gardens, is twice the size of central park, although not nearly as interesting.
My last day i
n Münich, I ventured two and a half hours by
train to Füssen, which is home to two important castles from the late Holy Roman Empire. One is particularly famous, because, as mom told me, is the model for which Walt Disney modeled the Disney Castle after. Both castles are situated in the Alps, and have an incredible view of the countryside. The view is absolutely breathtaking, and I took way too many pictures.
Yesterday was Thanksgiving and it was the first time that I've been slightly homesick. I missed the Thanksgiving family football game. I was able to get some friends together and have a small party over some turkey (which is far too complicated to make), pasta, potatoes and wine. I hope everyone's holidays are going great. This is the first weekend I've been in Rome for a while, so I don't know what to do with myself. Next weekend, Byake and I are venturing to the Alps for some early December snowboarding in the extreme sports capital of the world, Innsbruck. It should be an exciting and pleasant disaster.
Cheers.